Thimble Island Ocean Farm
203-654-9690
Click map pin for location details
About Thimble Island Ocean Farm
Imagine a vertical underwater garden: seaweed and mussels grow on floating ropes, stacked above oyster and clam cages below. Imagine a farm designed to restore rather than deplete our oceans – a farm growing local food but also biofuel and organic fertilizer.
We're doing it!
Thimble Island Ocean Farm. is proud to be one of the first sustainable 3-d ocean farms in the country. Nestled in the Thimble Islands of Long Island Sound, our 40 acre farm uses the entire water column to grow a variety of species — ranging from sugar kelp and oysters to mussels and scallops — and has emerged as a national model for hyper-local sustainable food production, ocean restoration and economic development.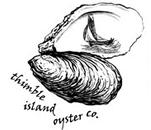 Seafood Offered
Oysters, Seaweed
1
Locations
What are the Local Catch core values?
The value statements outlined below aim to create a higher level of accountability and trust, both internally within the network and externally to the public, in order to advance the movement of Community Supported Fisheries (CSF) and like-minded community-based seafood operations.
Community-Based Fisheries
Fair Access
Fair Price
Eating with the Ecosystem
Traceable and Simple Supply Chains
Catch and Handle with Honor
Community and Ecosystem Based Fisheries Management
Honoring the Ocean
Creativity and Collaboration
How does Thimble Island Ocean Farm implement these values?