Real Good Fish
831-332-1234
Click map pin for location details
About Real Good Fish
Real Good Fish is a community of fishermen and seafood lovers sharing the bounty of our local ocean by eating a diversity of species caught using sustainable catch methods, which ultimately brings greater health to all – the fishermen, the seafood lovers and the ocean itself.
Supporting local fishermen is healthier for our local economies too, with a multiplying effect as that money circulates repeatedly through local communities. Investing in our local fishing industry creates a collaborative system of fishermen and consumers, industry and conservationists, all working together to protect and celebrate the ocean we love.
With access to some of the best managed fisheries in the world, at Real Good Fish we place a high value on using those ocean resources in a sustainable way and evolving the way our culture consumes seafood.
We love sardines fresh from the water, oysters that taste like Tomales Bay, buttery spot prawns, rich black cod, sweet & messy Dungeness crab, king salmon straight from the boat. We believe seafood should be fresh, delicious, varied and a celebration of the seasons and local bounty - something worth praising with every meal and every bite.
We partner with the Monterey Bay Aquarium's Seafood Watch program to increase awareness and demand for sustainably caught seafood. We also partner with California public school districts to provide local, underutilized species to California school children through our Bay2Tray program. Our Pacific grenadier fish tacos are the most popular item on school menus whenever they're served!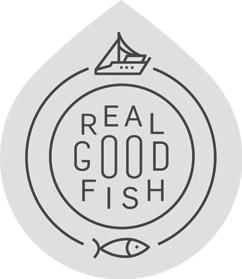 Seafood Offered
Abalone, Acadian redfish, American lobster, Anchovy, Black cod, Cusk, Dungeness crab, Flounder, Haddock, Halibut, Hard clams, Lingcod, Mackerel, Monkfish, Mussels, Opah, Oysters, Pacific bonito, Petrale, Pollock, Prawns, Rock crab, Rockfish, Salmon, Sanddab, Sardines, Scallops, Scup, Sea urchin, Sheepshead, Shrimp, Skate, Smelt, Sole, Spiny lobster, Squid, Swordfish, Tuna, Wahoo, White seabass, Cabezon, Ocean whitefish, Herring, Thornyhead, Yellowtail amberjack
166
Locations
75
Number of Fishermen Sourced From
10
Years in Business
What are the Local Catch core values?
The value statements outlined below aim to create a higher level of accountability and trust, both internally within the network and externally to the public, in order to advance the movement of Community Supported Fisheries (CSF) and like-minded community-based seafood operations.
Community-Based Fisheries
Fair Access
Fair Price
Eating with the Ecosystem
Traceable and Simple Supply Chains
Catch and Handle with Honor
Community and Ecosystem Based Fisheries Management
Honoring the Ocean
Creativity and Collaboration
How does Real Good Fish implement these values?