Mermaid's Garden Fish Share
718-638-1910
Click map pin for location details
About Mermaid's Garden Fish Share
Our fish share is a model that connects fish eaters to fishermen. Participants commit to an agreed upon season, during which they receive regular "shares" of fresh fish. This reconnects coastal communities to their food system, promotes sustainable fishing practices, and strengthens relationships between fishermen and the people they feed.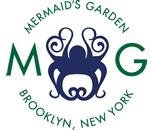 Seafood Offered
Acadian redfish, American lobster, Bluefish, Flounder, Haddock, Hard clams, Mackerel, Mussels, Oysters, Pollock, Pompano, Salmon, Scallops, Scup, Sea urchin, Shrimp, Skate, Squid, Stone crab, Striped bass, Swordfish, Tilefish, Tuna, Acadian Redfish, Black Bass, Bluefish, Haddock, Hake, Mahi Mahi, Monkfish, Pollock, Porgy, Spanish Mackerel, Striped Bass, Summer Flounder, Swordfish, Tilefish, Tuna
11
Locations
11
Years in Business
What are the Local Catch core values?
The value statements outlined below aim to create a higher level of accountability and trust, both internally within the network and externally to the public, in order to advance the movement of Community Supported Fisheries (CSF) and like-minded community-based seafood operations.
Community-Based Fisheries
Fair Access
Fair Price
Eating with the Ecosystem
Traceable and Simple Supply Chains
Catch and Handle with Honor
Community and Ecosystem Based Fisheries Management
Honoring the Ocean
Creativity and Collaboration
How does Mermaid's Garden Fish Share implement these values?